A new cat!!
Well, we got a new cat this weekend.
She was too good to pass up; about 4 months old and very cute and playful. Also already spayed and front-declawed with all shots. The price was right as well - $70 as opposed to $200 for the 2 months old kittens. Here's a pic: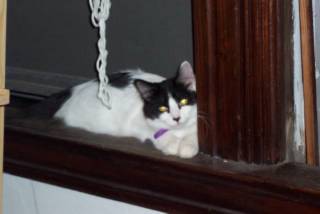 JillyTonks
Hopefully she'll get along pretty well with our other aminals once she gets settled in. Name? As yet undetermined, although Tonks (http://www.fact-index.com/n/ny/nymphadora_tonks.html) and Jilly (from Charles deLint's Newford books) are big contenders.